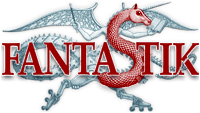 THE ASSOCIATION FOR THE FANTASTIC GENRES
Science Fiction, Fantasy, Horror, Surrealisme, Superhelte, Eventyr, Fabler, Alternate History, Arthurian fantasy, Cyberpunk, Dark fantasy, Dimensionsrejser, Dystopi, First Contact, Future history, Gothic Romance, Heroic fantasy, Mad scientist, Magic realism. mm...
dansk

Groups of interest
Formal
Informal
Genre-groups
Media-groups
Other groups
The Archive
What is the archive?

The archive is the place where you can se the different articles and news that has been on the website. Here are only the things that are on English, for the rest you need to go to the Danish part of the website.